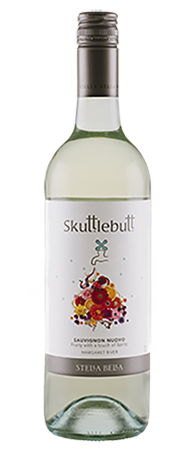 2016 Skuttlebutt Sauvignon Nuovo
Background
Skuttlebutt wines are made to be enjoyed. A kaleidoscope of the Margaret River region, these wines are fresh, fruity and flavoursome.
Skuttlebutt is a nautical term for the source of fresh drinking water on a sailing ship where people gather to catch up on the gossip and goings-on. To reflect the nature of this everyday social gathering, we create these wines as the perfect excuse to gather and Skuttlebutt with friends. Like fresh water on a ship, these wines are extremely pleasing and essential for existence.
Tasting Note
Brilliant pale straw in colour with delicate fragrances of passion flower, orange blossom and fresh mint. The palate has a gentle frizzante and is sweetly fruity with flavours of melon, nashi pear and tangerine which are balanced by a cleansing acidity. Refreshingly low in alcohol with a creamy soda spritz and a tongue-tingling zing to finish.
Blend
100% Sauvignon Blanc.
Food
Spicy Asian foods, as an aperitif or palate cleanser.
Drink
While youthful and fresh.
Download Tasting Notes