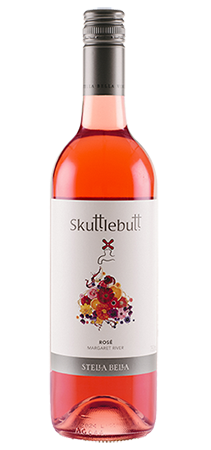 2016 Skuttlebutt Rosé
Background
Skuttlebutt wines are made to be enjoyed. A kaleidoscope of the Margaret River region, these wines are fresh, fruity and flavoursome.
Skuttlebutt is a nautical term for the source of fresh drinking water on a sailing ship where people gather to catch up on the gossip and goings-on. To reflect the nature of this everyday social gathering, we create these wines as the perfect excuse to gather and Skuttlebutt with friends. Like fresh water on a ship, these wines are extremely pleasing and essential for existence.
Tasting Notes
Pretty musk pink in colour and flushed with the springtime aromas of seasonal fruits – raspberry, redcurrant, cranberry and rosehip. The palate is bright and refreshing with a zesty acidity and full of the same luscious red fruits.
Blend
64% Shiraz, 27% Sangiovese, 9% Muscat Rose.
Food
Thai green chicken curry or warm duck salad.
Drink
Now slightly chilled and over the next 2 years.
Download Tasting Notes: