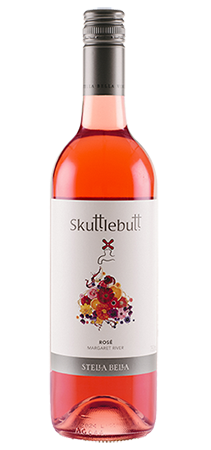 2017 Skuttlebutt Rosé
Background
Skuttlebutt wines are made to be enjoyed. A kaleidoscope of the Margaret River region, these wines are fresh, fruity and flavoursome.
Skuttlebutt is a nautical term for the source of fresh drinking water on a sailing ship where people gather to catch up on the gossip and goings-on. To reflect the nature of this everyday social gathering, we create these wines as the perfect excuse to gather and Skuttlebutt with friends. Like fresh water on a ship, these wines are extremely pleasing and essential for existence.
Awards & Reviews
Bronze Medal - Royal Sydney Wine Show 2017
Tasting Notes
Pretty pale pink in colour and filled with the aromas of strawberry, raspberry, cranberry and subtle orange rhind. The palate is bright and refreshing with the same luscious red fruits, a slight savoury character and a delicate musk finish. The perfect wine to Rosé the day away!
Blend
93% Shiraz, 7% Tempranillo.
Food
Charcuterie board
Drink
Now slightly chilled and over the next 2 years.
Download Tasting Notes: