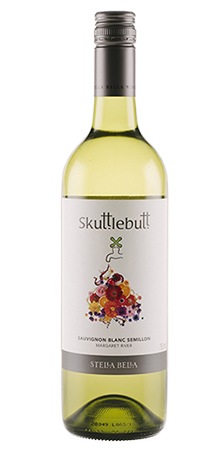 2016 Skuttlebutt Sauvignon Blanc Semillon
Background
Skuttlebutt wines are made to be enjoyed. A kaleidoscope of the Margaret River region, these wines are fresh, fruity and flavoursome.
Skuttlebutt is a nautical term for the source of fresh drinking water on a sailing ship where people gather to catch up on the gossip and goings-on. To reflect the nature of this everyday social gathering, we create these wines as the perfect excuse to gather and Skuttlebutt with friends. Like fresh water on a ship, these wines are extremely pleasing and essential for existence.
Awards & Reviews
94 Points - 2016 Halliday Top 100
Tasting Note
Lifted aromatics of zesty citrus and nashi pear are in harmony with the beautiful stone fruit characters. On the palate lime and nectarine from the semillon are complemented by rambutan with a tropical passionfruit lift, finishing with freshness and a delicious fruit sweetness.
Blend
62% Sauvignon Blanc and 38% Semillon.
Food
Seafood & Salads.
Drink
Young, whilst fresh and vibrant.
Download Tasting Notes