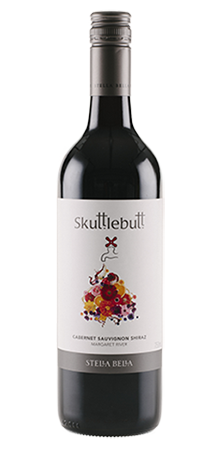 2015 Skuttlebutt Cabernet Shiraz
Background
Skuttlebutt wines are made to be enjoyed.A kaleidoscope of the Margaret River region, these wines are fresh, fruity and flavoursome.
Skuttlebutt is a nautical term for the source of fresh drinking water on a sailing ship where people gather to catch up on the gossip and goings-on. To reflect the nature of this everyday social gathering, we create these wines as the perfect excuse to gather and Skuttlebutt with friends. Like fresh water on a ship, these wines are extremely pleasing and essential for existence.
Tasting Note
Dark red with purple hues and rousing scents of poached plums, mulberries, violets and smokey vanillin oak. The palate is soft and supple offering delicious fruit flavours and a hint of five spice. Round tannins impart a gentle and elegant grip with a salivating finish.
Blend
49% Cabernet Sauvignon, 46% Shiraz and 5% Sangiovese.
Food
Pizza and Pasta.
Drink
Now to 2020.
Download Tasting Notes