24 March 2016 | Stella Bella
The Ultimate Easter Indulgence!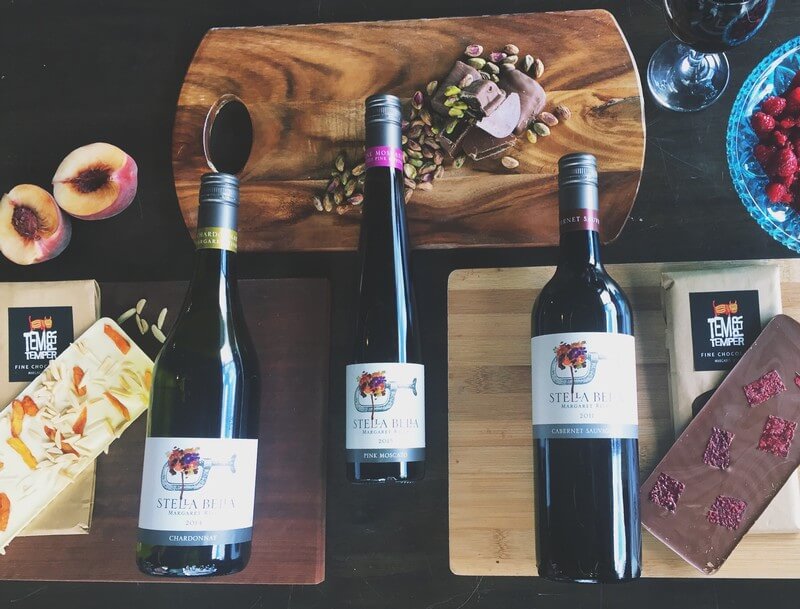 Three beautiful Stella Bella wines perfectly paired with three very fine Temper Temper Chocolates.
Stella Bella Chardonnay paired with Temper Temper Peach and Almond in White
The classic Margaret River stone fruit aromas and flavours of the Chardonnay are enhanced by the dehydrated peach.This is balanced by subtle toasty and nutty aromas from the finest quality French oak and the slivered almonds, creating a savoury touch.The generous palate of the Chardonnay is still poised and precise with a lingering nuttiness and complexity from the battonage making it the perfect match for the smooth, creamy and perfectly balanced white chocolate.
This dark, full bodied wine is brooding with berries and couverture. Making it the perfect match for a serious dark chocolate. Subtle mocha and a sweetness from the vanillin oak complement the fruit aromas and invite the tart but ripe flavours of the dehydrated raspberry. The elegance and power of this wine is softened by a hint of sweetness from the chocolate, which is balanced by the fine acidity and fresh raspberry infusion.
Stella Bella Pink Moscato with Temper Temper Rose and Pistachio Turkish Delight
The wine has an immensely appealing bouquet of rosewater and Turkish Delight, intertwined with orange blossom and musk making it a match made in heaven. The spritzy palate is brightly fruity, displaying fresh strawberry and Turkish Delight flavours. Perfectly complemented by the delicate rosewater of the real Turkish delight. The pistachio brings a touch of savory nuttiness to balance the sweetness. All of this is combined by the wines fresh acidity and the soft creamy milk chocolate to create a fresh and delicate (and moreish) finish.
Available individually or packaged in a lovey hamper box at our Cellar Door this Easter weekend.