13 April 2016 | Stella Bella
Vintage 2016 Wrap Up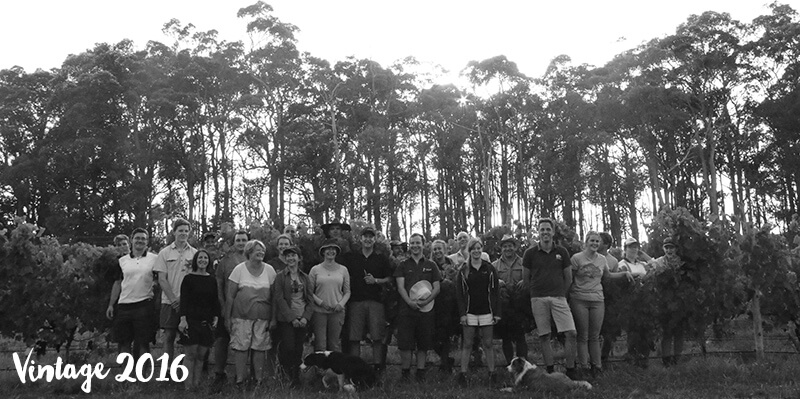 As with every vintage, challenges arise from mother nature. Whether it be wind, rain, heat or cool temps... It seems as though an average vintage is the vintage that you're never currently working in.
This year it was the early season rainfall that challenged our viticulturists and winemakers. On January 18th & 19th the heavens opened up and Margaret River was saturated with between 80-130mm of rain (depending where in the cape you are located).
This effected the early ripening period in the white varieties causing the berries to swell up and in some cases burst. Which if you don't check your vineyard regularly will result in… next stop Fungus town and we don't like Fungus town, at all! Consequently, we walked our vineyards every 2 days and dropped any affected fruit on the ground to ensure only the highest quality fruit was harvested.
After this episode the weather brightened up and the Chardonnay ripened beautifully. Classic Margaret River mouth tingling natural acidity and stone fruit flavours developed in our Wallcliffe vineyards. While further south, our Forest Grove vineyard saw tight zesty lemon citrus and grapefruit characters intertwined with the beautiful southern Margaret River palate precision.
Semillon and Sauvignon Blanc are looking great, with all of the varietal characteristics & style we expect from our Southern vineyards. Semillon didn't over crop (which is a varietal tendency), creating a balanced full flavour with plenty of juicy texture as opposed to diluted and lacking flavour and concentration. Sauvignon Blanc is showing beautiful tropical fruit and has undergone a 50%-barrel ferment in old mostly old oak to increase texture and complexity.
There was a very short lull and then it was straight into the reds. Luckily, all red varieties were not mature or advanced enough be affected by the January rains. The vines loved the pre-harvest watering… Resulting in great flavour and tannin development, giving us the perfect fruit to produce some concentrated and silky red wines.
The red intake was completed on the 6th of April. Shiraz was first in and as always it is superb, with rich fruit and delicate spicy tannins. Sangiovese was next and is displaying a beautiful acid line and classic varietal aromas and flavours. Tempranillo was mildly affected by the weather conditions, but thankfully for the technology of selective harvesting and our new sorting table and winery equipment the quality is still high and we are looking forward to taming what can be a beast of a wine!
In our opinion, Cabernet Sauvignon will remain king for vintage 2016! With the early season rain allowing for beautiful flavour and tannin ripeness. Throw in the new sorting technology and you have some amazing perfumed, poised and perfectly delicious Cabernet to look forward to.
That pretty much sums up the harvest Vintage 2016… We now focusing on finish the red ferments and completing the aromatic un-oaked whites by May, before a well deserved break! Sales trips are classified as breaks aren't they?! Haha!
Until next season… continue drinking good wine and take care! Peace!
The Stella Bella Wines Team!